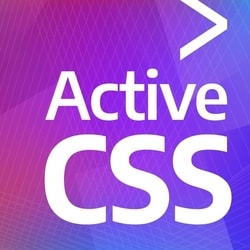 A CSS UI Expansion Plugin
---
Over 100 tools included for building interactive websites and SPAs.
Works in runtime dynamically. Works inline. Works with your old-school plugins.
A 41kB plugin with Brotli compression, fully integrated with all features.
Pre-requisites to studying Active CSS are HTML, CSS and basic JavaScript.

<

script

 

src

=

"/activecss-2-6-1.min.js"

><

/script

>
Over the last 2.5 years a UI engine has been built, modelled for CSS syntax, written in JavaScript and completely separate to the CSS rendering engine, so that simple commands and functionality could be added to CSS to handle UI in an intuitive, direct and logical way.

The ultimate goal is to provide a test-proven, practical prototype for W3C consideration.
New commands (action commands)
New pseudo-selectors (conditionals)
Study the documentation in sequence to understand it!
New in version 2.6.0...
It was only a matter of time!
Add pauses and make delayed actions sequential!
The "pause" command
When reading this, remember that commands are sequential - they flow downwards like a regular language.
See here for the docs on this!
Using the "await" option with ajax
Now you can turn any command that has a delay into a proper synchronous command, by adding the new await option.
This new option works best with the ajax commands, and commands like load-script where there is a potential delay.
See here for a full explanation!
The responsive code editor that you see above was also written in Active CSS.
Build occasional functionality, or a full application website.
Download and place in a script tag, or import as an npm package for Node.

<

script

 

src

=

"/activecss-2-6-1.min.js"

><

/script

>
Overview and docs
Examples